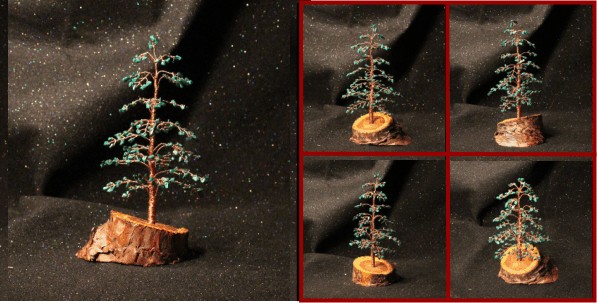 MALACHITE is a pure flow of vibrant and strong renewing energy. It has a high copper content which pulses electromagnetic energy.
Gemstone: Malachite
Quantity of Gems: 199
Trunk & Branches: created with 24ga Copper Artistic wire
Base: Rough sawn Pine from northern Wisconsin
Approximate Dimensions:
Height: 8.25″
Width: 5″
Depth: 3.5″
Weight: 7.2 oz
---
Metaphysical Properties of your Gem Tree
(and other interesting stuff)
AIDS IN:
Promotes growth
Builds Strength
Enhances emotional stability
Counteracts self destructive romantic tendencies
MALACHITE has been used as an aid to treat:
Heart pains
Cardiac asthma
Soothe arthritis
Vertigo
Lowers blood pressure
Alleviates menstrual disorders
---
CHAKRA: 4th, Heart
---
FENG SHUI……
Malachite can energize any stagnant area of your home or office. For health and family, place in the East area of your room or home. Place in the SouthEast area for money and abundance.
---
Additional Stone Info:
* MOHS hardness = 4
* Zodiac stone of: Virgo, Capricorn
* Planet Association: Venus
* Element: Earth
[wp_cart_button name="Malachite Evergreen Gem Tree on Pine" price="115.00″]