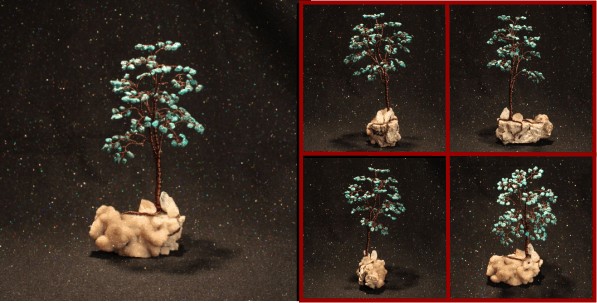 MAGNESITE (aka Chalk Turquoise) has a calming and relaxing effect on one's being
Gemstone: Magnesite
Quantity of Gems: 135
Trunk & Branches: created with 24ga Brown Color Craft wire
Base: Druzy Quartz collected from Missouri. It is adorned with three quartz crystal points collected from Arkansas.
Approximate Dimensions:
Height: 9.75″
Width: 4.5″
Depth: 3.25″
Weight: 15 oz
---
Metaphysical Properties of your Gem Tree
(and other interesting stuff)
AIDS IN:
Encourages a positive attitude
Helps us to accept and love ourselves for who we are
Increases the ability to blend in
MAGNESITE has been used as an aid to treat:
Nervousness
Fears
Irritability
Strengthens bone and teeth
---
CHAKRA: 6th, Third Eye ~
---
FENG SHUI……
Beautiful blue color stone which protects and promotes courage. Like all blue stones, magnesite is lucky. Valuable for grounding. Its soothing energy brings peace of mind. Assists in communication activities, both oral and written. Enhances trust, kindness and the recognition of beauty. Ideal for living room, office or child's bedroom.
---
Additional Stone Info:
* MOHS hardness = 3.5 ~ 4.5
* Member of the Calcite group, rich in magnesium
[wp_cart_button name="Magnesite Gem Tree on Druzy Quartz" price="62.00″]