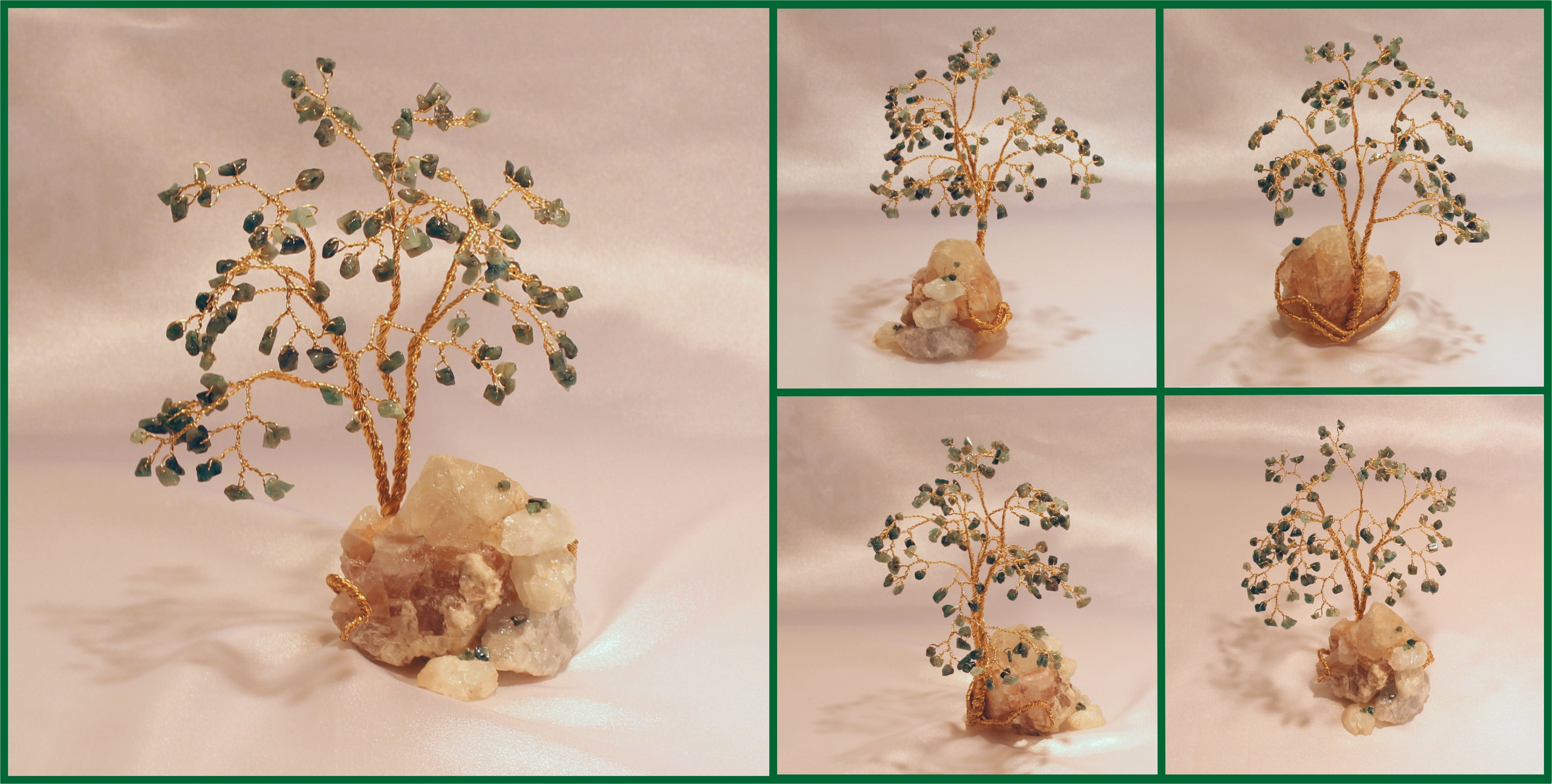 56.70 Carats of genuine Emerald gemstones were used to create this lovely and unique piece!
EMERALD is the "stone of Successful Love". It opens and nurtures the heart, embodies unity, compassion, and unconditional love.
—–SPECIFICATIONS OF YOUR GEM TREE—–
Gemstone: Emerald
Quantity of Gems: 134 (56.70 carats)
Trunk & Branches: created with 24ga Gold jewelry wire
Base: an arranged cluster of light green Fluorite crystals collected in southern New Mexico. Fallen Emerald "leaves" adorn the base.
Approximate Dimensions:
Height: 5.5″
Width: 4.5″
Depth: 4.5″
Weight: 7.7 oz
---
Metaphysical Properties of your Gem Tree
(and other interesting stuff)
AIDS IN:
Promotes high self esteem
Restores confidence
Revives passion for an interest, a person, or a job
Activates artistic creativity
Inspires eloquence in speech
EMERALD has been used as an aid to treat:
Increases mental acuity
Strengthens memory
Helps alleviate eye infections
Helps relieve fever and headaches
Averts allergies and sinusitis
Relieves eczema, rashes, skin irritations
---
CHAKRA: 4th, Heart
---
FENG SHUI……
Emerald utilizes Wood energy; the energy of growth, expansion, new beginnings, nourishment, and health. Place in any area where you wish to enhance this energy.
Extremely beneficial when placed in the East area of your home or space for Family and Health. It is also very useful when placed in the Southeast area for Prosperity and Abundance and the Northeast area for Self Cultivation.
---
Additional Stone Info:
* MOHS hardness = 7.5 – 8
* Zodiac stone of: Taurus, Gemini, Ariea
* Planet association: Venus
* Element(s): Earth
* Birthstone: May (Traditional), June (Historic)
* Anniversary: 20th year & 35th year anniversary gemstone