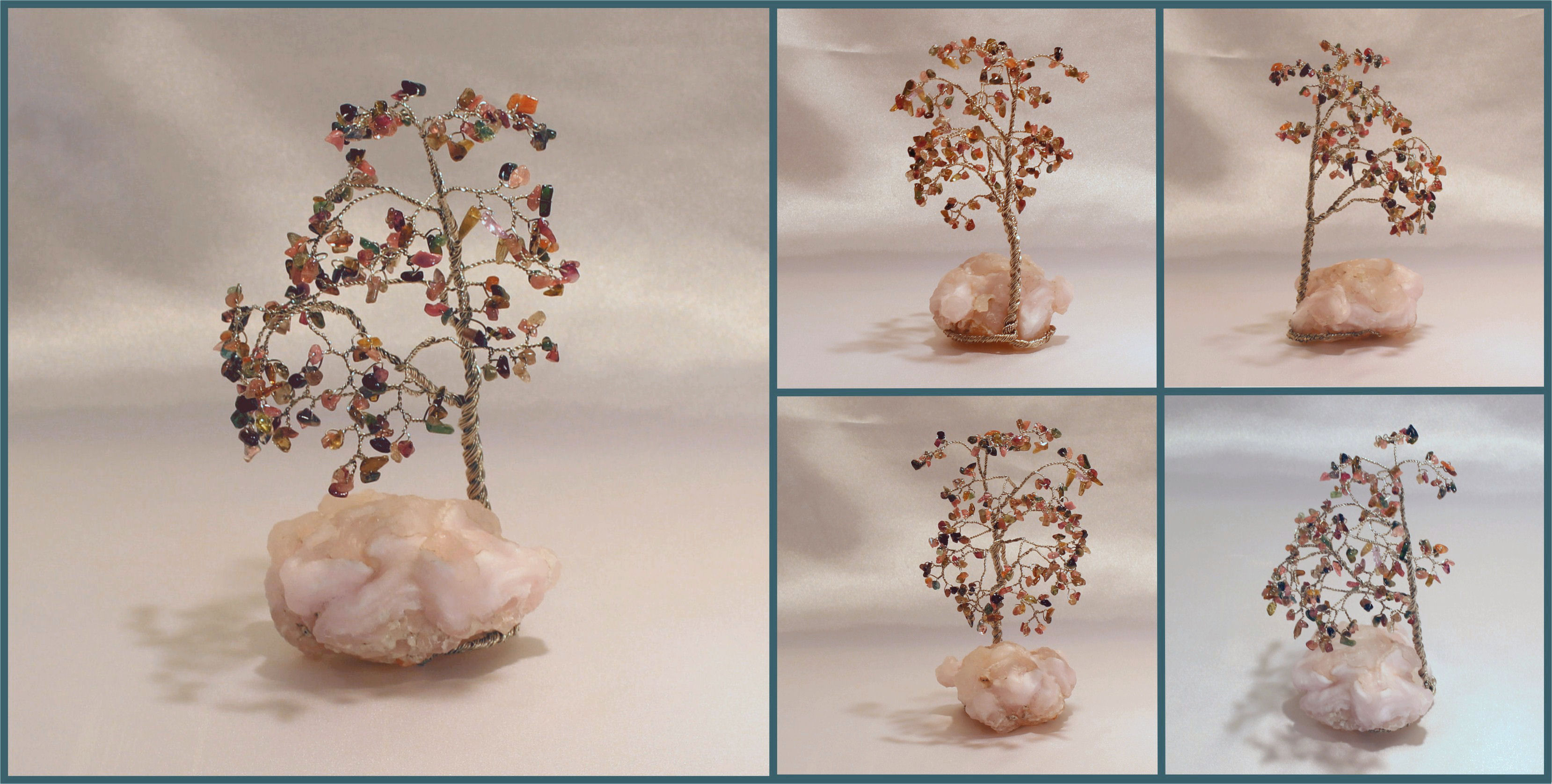 TOURMALINE is the "Stone of Complete Composure and Balance" and is one of the rare gemstones that come in all colors of the rainbow.
—–SPECIFICATIONS OF YOUR GEM TREE—–
Gemstone: Tourmaline
Quantity of Gems: 200
Trunk & Branches: created with 24ga Silver jewelry wire
Base: a natural pink Chalcedony desert rose collected in southern New Mexico.
Approximate Dimensions:
Height: 5.75″
Width: 3.75″
Depth: 3″
Weight: 6.7 oz
---
Metaphysical Properties of your Gem Tree
(and other interesting stuff)
AIDS IN:
Enhances understanding
Increases self confidence
Neutralizes negative energies
Dispels fear and grief
Brings insight into important matters
Promotes harmony and kindness
TOURMALINE has been used as an aid to treat:
Relaxes body and mind
Alleviates anxiety
Helps improve pain from arthritis
Strengthens nervous system
Detoxifies ones energy
---
CHAKRA: 4th, Heart
---
FENG SHUI……
Tourmaline, a very powerful gemstone, can be beneficial in any area of your home or office. Place it in any area where you wish to neutralize negative energy and transform it to positive.
Use in the North area for personal journeys, life path, and career. Place in the West for creativity, the Northeast for wisdom, self grounding and harmony. Also beneficial in the Southwest for relationships (when used in pairs).
---
Additional Stone Info:
* MOHS hardness = 7 1/2
* Zodiac stone of: Libra
* Planet association: Venus
* Element(s): Various – based on color
* Birthstone: October (Traditional and Modern)
* Anniversary: 8th year anniversary gemstone