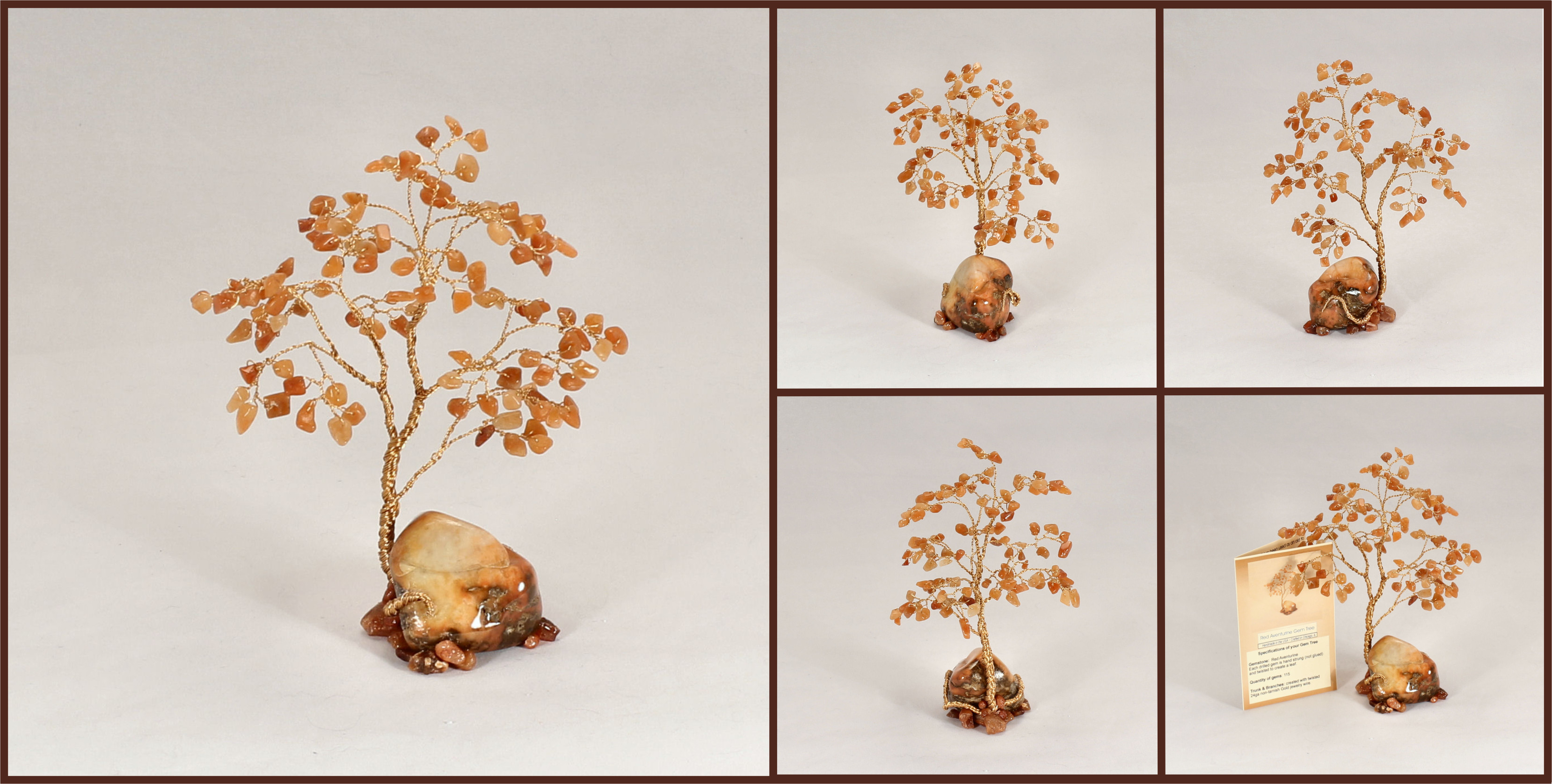 RED AVENTURINE is the "Stone of Manifestation through Action". It revitalizes your body and channels your focus to achieve your goals.
—-SPECIFICATIONS OF YOUR GEM TREE—–
Gemstone: Red Aventurine
Quantity of Gems: 115
Trunk & Branches: created with 24ga Gold jewelry wire
Base: an orange Jasper stone nestled in a bed of Lake Superior Agates collected from northern Wisconsin.
Approximate Dimensions:
Height: 6.75″
Width: 4.5″
Depth: 6″
Weight: 6.5 oz
---
Metaphysical Properties of your Gem Tree
(and other interesting stuff)
AIDS IN:
Inspires creativity
Renews confidence
Increases perception
Improves judgment
Encourages ability to bring goals and desires to reality
Releasing negativity
RED AVENTURINE has been used as an aid to treat:
Helps fight skin afflictions
Strengthens blood
Help reduce cholesterol levels
Removes liver toxins
Supports reproductive system
---
CHAKRA: 1st, Root/Base
---
FENG SHUI……
Red Aventurine utilizes Fire energy – The energy of enthusiasm, warmth, brightness, illumination, and activity. It is traditionally associated with the South area for Fame and Reputation. Also beneficial when placed in the Southwest area of your home or room for Relationships.
---
Additional Stone Info:
* MOHS hardness = 7
* Zodiac stone of: Aries
* Planet Association: Mercury
* Element: Fire
* Natural Birthstone for those born in mid Autumn (Oct 22nd ~ November 20th)