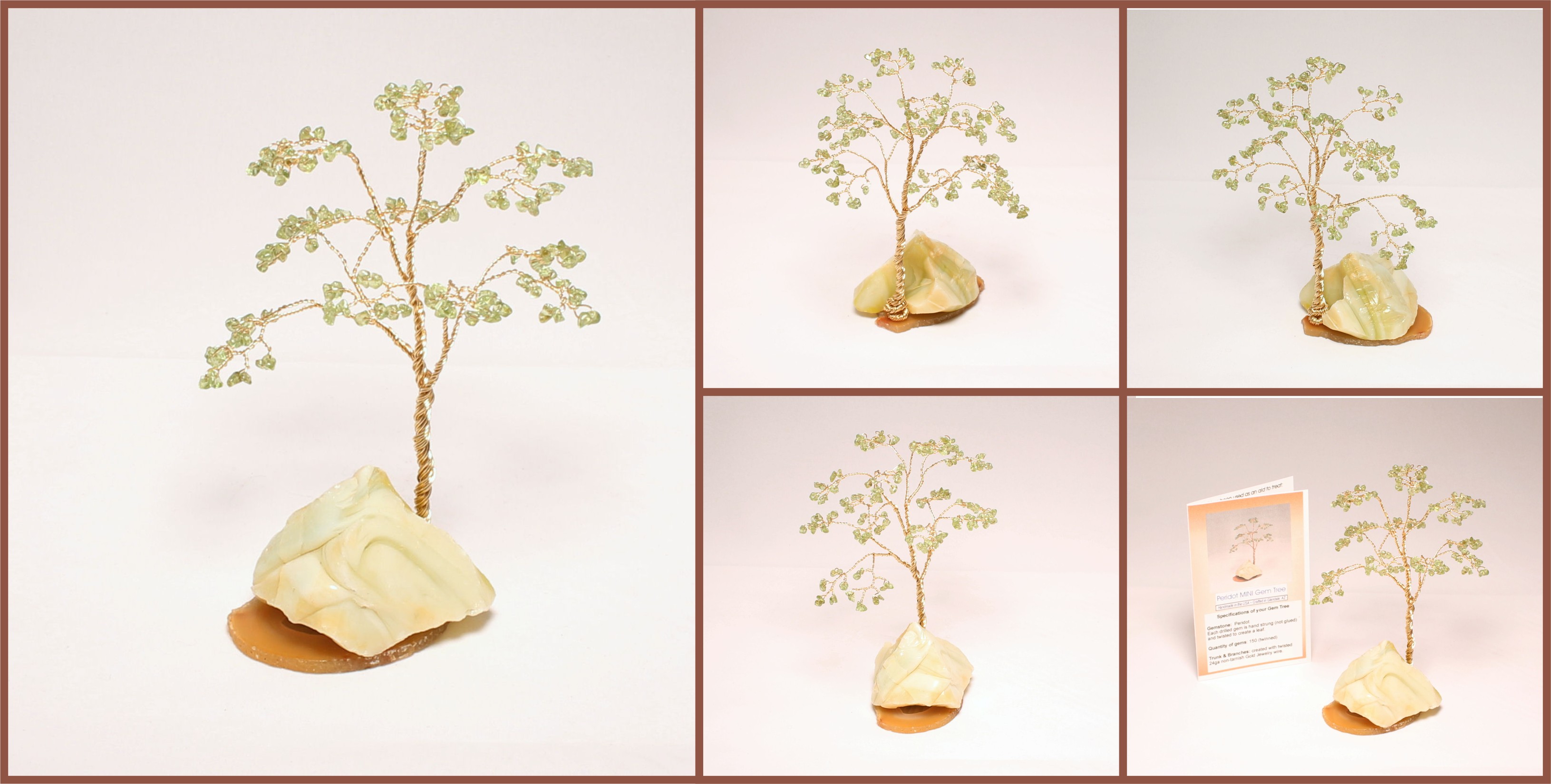 PERIDOT is considered a "Wounded Healer stone". It helps break the cycle of repeating negative patterns that prevent you from achieving success in overcoming obstacles.
The MINI Gem Trees that I create are smaller versions of my larger ones, yet are packed FULL with at least 50 gemstones in each MINI tree. They are wonderful additions to any collection and fit easily in or on smaller spaces !
—–SPECIFICATIONS OF YOUR GEM TREE—–
Gemstone: Peridot
Quantity of Gems: 150 (twinned)
Trunk & Branches: created with 24ga Gold Jewelry wire
Base: a yellow-green Slag Glass. The base is supported by a highly polished light brown Brazilian agate slab.
Approximate Dimensions:
Height: 5.5″
Width: 4″
Depth: 4"
Weight: 4.4 oz
---
Metaphysical Properties of your Gem Tree
(and other interesting stuff)
AIDS IN:
Calms anger
Brightens the wit
Cures cowardice
Alleviates emotional burdens, guilt
Releases jealousy
Promotes responsibility and forgiveness
PERIDOT has been used as an aid to treat:
Overcome depression
Deters nightmares
Balances adrenal glands
Intestinal health
Improves psychological disorders
---
CHAKRA: 4th, Heart
---
FENG SHUI:
Peridot utilizes Wood energy, the energy of growth, expansion, new beginnings, nourishment, and health. Traditionally Peridot should be placed in the East area of your home for Family and Community and the Southeast area for Prosperity and Abundance.
Also beneficial when placed in a child's room or any area where you are starting a new project.
---
Additional Stone Info:
* MOHS hardness = 76
* Zodiac stone of: Libra
* Planet Association: Mercury, Venus
* Element: Earth
* Birthstone for the month of August
* 16th yr Anniversary gemstone