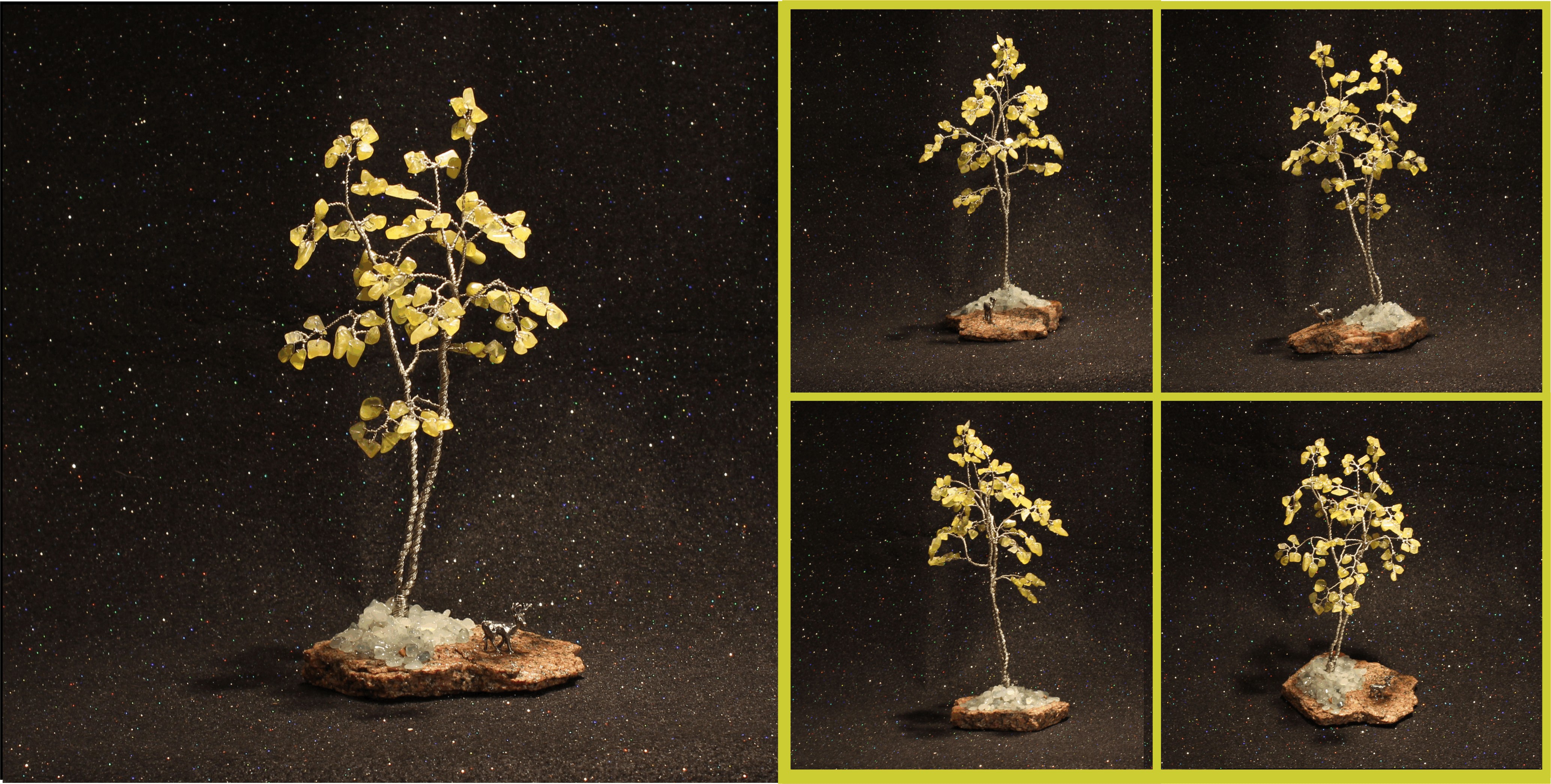 This tree was created with the great north woods in mind. Although most people think of Pine trees when they dream of being in the upper midwest, however the birch tree is quite prevalent up north and is often seen in clumps!
JADE is often called the "Dream Stone" as it can help you attain your dreams and goals. JADE has been known to help promote a richer and more fulfilling life. Very lucky stone!
Gemstone: Natural Lemon Yellow Jade
Quantity of Gems: 110
Trunk & Branches: created with 24ga Silver Artistic wire
Base: Red Granite collected from Wisconsin. Green Aventurine creates the grassy area beneath the tree while a pewter deer stands tall nearby.
Approximate Dimensions:
Height: 9″
Width: 4.25″
Depth: 4.25″
Weight: 12 oz
---
Metaphysical Properties of your Gem Tree
(and other interesting stuff)
AIDS IN:
Instilling resourcefulness
Seeing beyond limitations
Creates calm, harmony, and peace
Manifesting ideas
Harmony between mental, physical, and emotional aspects
JADE has been used as an aid to treat:
Counteract Depression
Strengthen Kidneys
Strengthen Heart
Purify Blood
Asst in removal of toxins
---
CHAKRA: 4th, Heart
---
FENG SHUI……
Jade is used in positive directions for longevity and a good life. Place in the Center area for Health and Harmony, the Northeast area for Wisdom and Self-cultivation, and in the Southwest area for Relationships.
---
Additional Stone Info:
* MOHS hardness = 6.5
* Zodiac stone of: Libra
* Planet Association: Venus
* Element: Earth
* Mystical Birthstone of March
* 12nd yr Anniversary gemstone