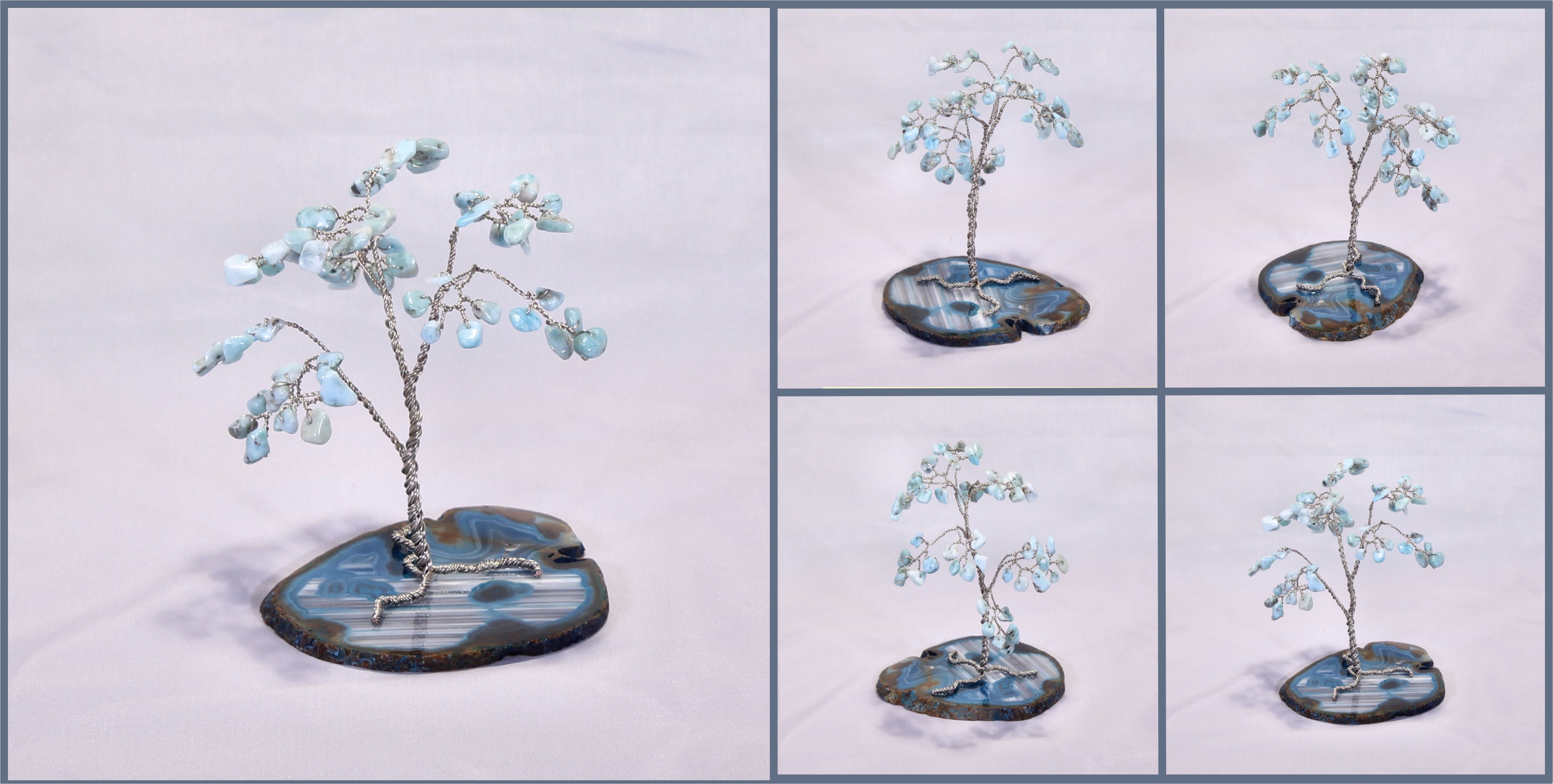 LARIMAR resembles sunlight dancing beneath Caribbean waters and is found ONLY in the Dominican Republic. It is said to harmonize the body and soul. It is also known as "The blue stone of Atlantis".
—–SPECIFICATIONS OF YOUR GEM TREE—–
Gemstone: Larimar
Quantity of Gems: 55
Trunk & Branches: created with 24ga Silver jewelry wire
Base: a colorful blue Brazilian Agate slab.
Approximate Dimensions:
Height: 4.5″
Width: 3.75″
Depth: 3.75"
Weight: 3.4 oz
---
Metaphysical Properties of your Gem Tree
(and other interesting stuff)
AIDS IN:
Freeing yourself from unhealthy attachments
Power of communication
Helps to speak from the heart
Improves self confidence
Enhances feminine power
Cools tempers and calms fears
LARIMAR has been used as an aid to treat:
Stress related illnesses
Diminish intensity of hot flashes
Eases throat conditions
Dissolves blockages in the head, neck, and chest
Relieves high blood pressure
---
CHAKRA: 5th, Throat
---
FENG SHUI……
LARIMAR maintains a great deal of Water energy, the energy of stillness, quiet strength, and purification. Place in the Center area of your room or home for balance, or in the North area for Career and Life Path. It is also beneficial when placed in the West for Children and the Southwest area for Relationships.
---
Additional Stone Info:
* MOHS hardness = 4.5 to 5
* Element: Water, Fire
* Natural Birthstone to those born as Spring begins (March 20th – April 19th)
* A variety of Pectolite only found in the Dominican Republic
Save