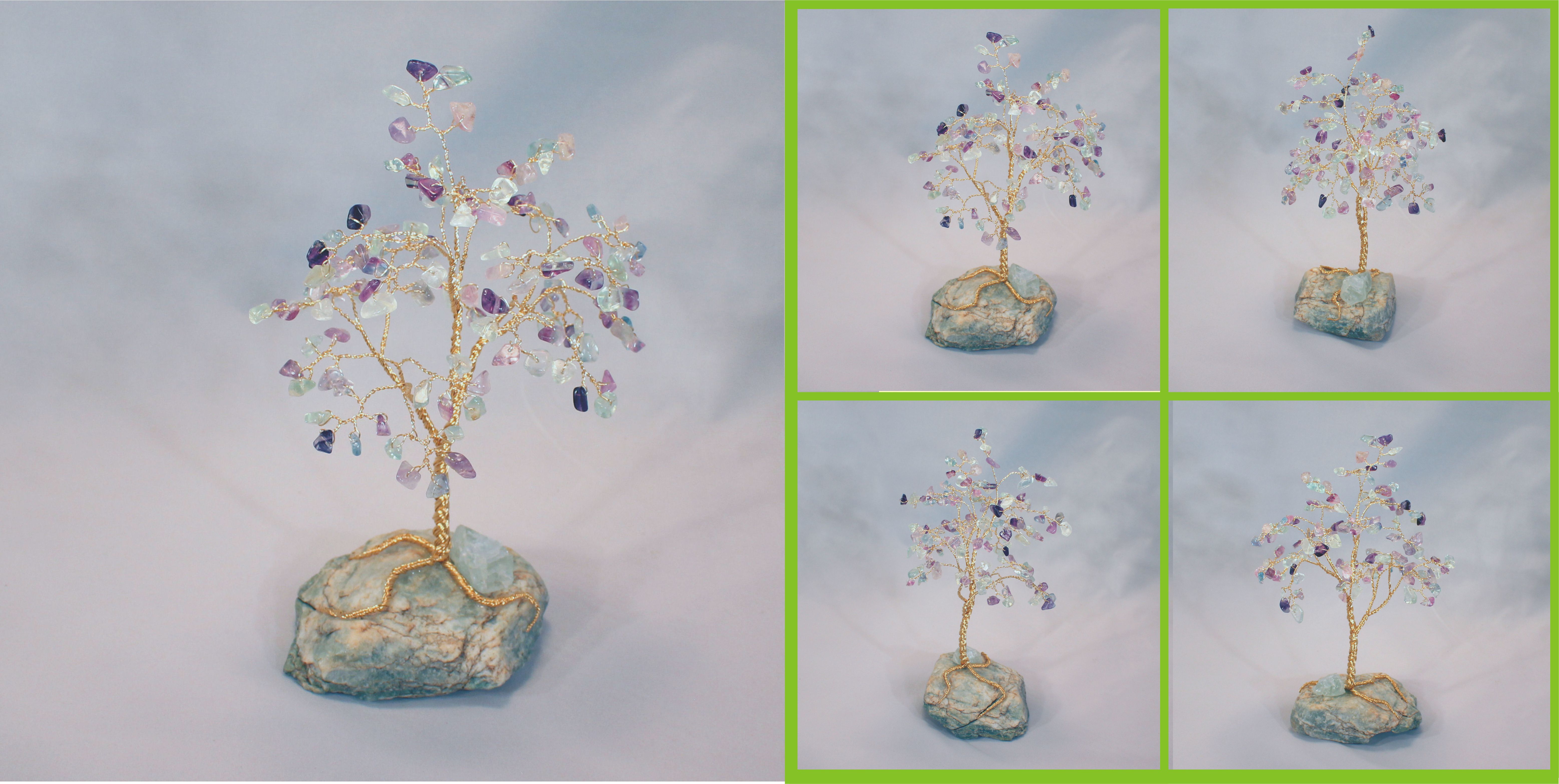 FLUORITE, according to folklore, is the "Home of the rainbows". Green Fluorite is about healing at all levels, while Purple Fluorite will bring you spiritual peace and wholeness.
—–SPECIFICATIONS OF YOUR GEM TREE—–
Gemstone: Fluorite
Quantity of Gems: 120
Trunk & Branches: created with 24ga Gold Jewelry wire
Base: A natural Green Jasper collected from Maricopa Arizona. A lovely green Fluorite crystal adorns the base.
Approximate Dimensions:
Height: 8″
Width: 5″
Depth: 5″
Weight: 11.8 oz
---
Metaphysical Properties of your Gem Tree
(and other interesting stuff)
AIDS IN:
Increases Powers of concentration
Absorbs negative energy
Neutralizes stress
Helps in decision making
Improves mental balance
FLUORITE has been used as an aid to treat:
Improves coordination
Boosts immune system
stimulates cell regeneration (particularly of the skin)
Alleviates arthritis
Improves discomfort of nerve related pain
---
CHAKRA: 6th, Third Eye
Honors Clairvoyance, Creativity, and Healing.
---
FENG SHUI……
Fluorite, specifically green fluorite, should be placed in your main Family Room or Living Room to strengthen relationships. To gain new ideas or solutions, place in your home office or at work.
Fluorite can promote an orderly mind in those areas.
---
Additional Stone Info:
* MOHS hardness = 4
* Belongs to the spar family
* Zodiac stone of: Pisces, Capricorn
* Element: Water, Air
* State Mineral of: Illinois