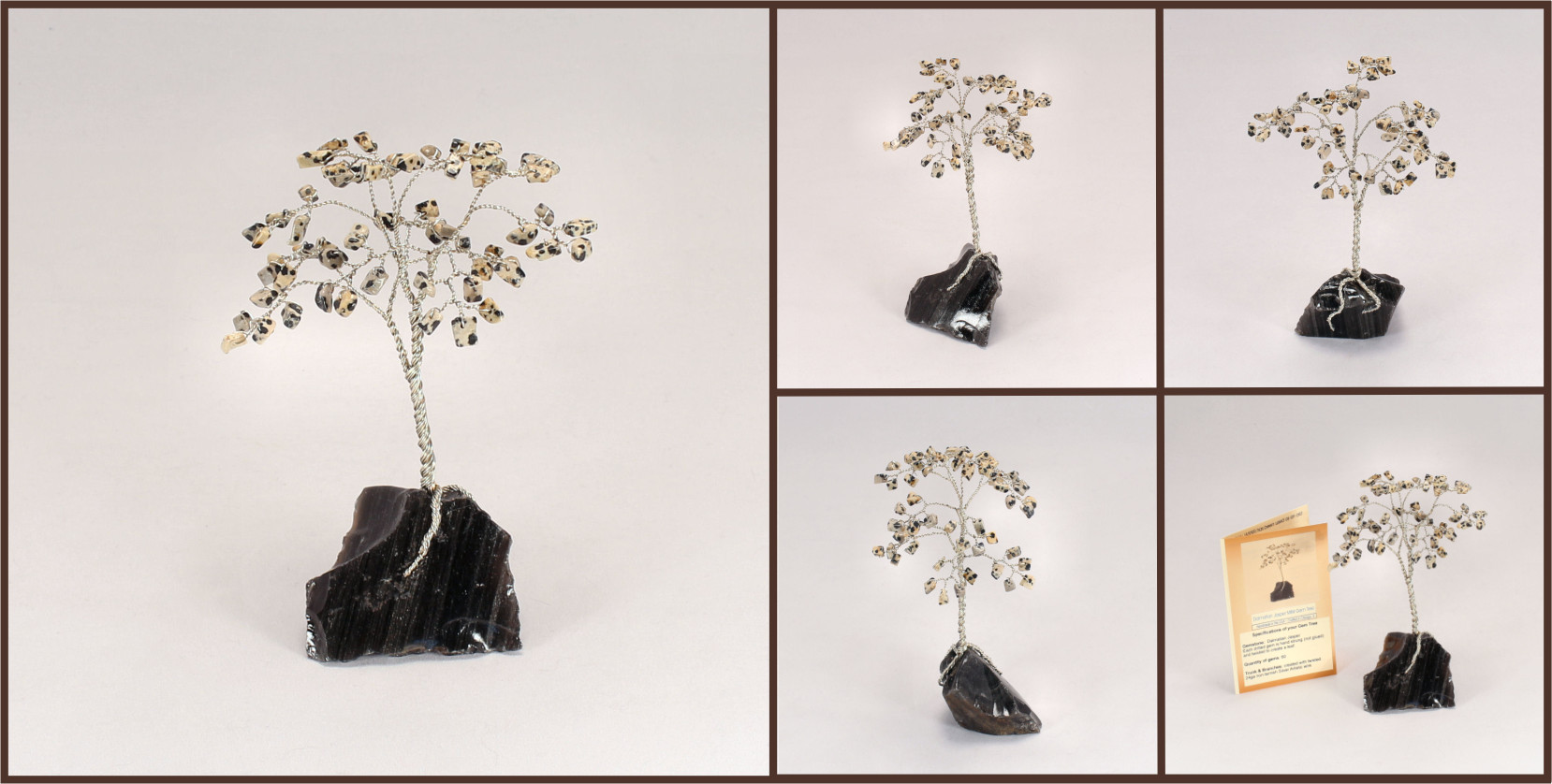 DALMATIAN JASPER, also known as Dalmatian Stone, appeals to the child within. It strengthens the spirit and encourages a sense of playfulness.
—–SPECIFICATIONS OF YOUR GEM TREE—–
Gemstone: Dalmatian Jasper
Quantity of Gems: 60
Trunk & Branches: created with Silver Jewelry wire
Base: A natural Silver Sheen Obsidian collected from Wyoming.
Approximate Dimensions:
Height: 5.75″
Width: 3.75″
Depth: 4.25″
Weight: 3.8 oz
---
Metaphysical Properties of your Gem Tree
(and other interesting stuff)
AIDS IN:
Calming children and animals
Encourages careful thinking
Translating ideas into actuality
Developing enthusiasm
Excellent for new business venture
DALMATIAN JASPER has been used as an aid to treat:
Strengthens resolve to quit smoking
Prevents nightmares
Supporting physical balance
Stimulates the nerves
Beneficial to muscles and tendons
Boosts immune system
---
CHAKRA: 1st, Root/Base
---
FENG SHUI……
Dalmatian Jasper is an excellent grounding stone. It utilizes Earth energy bringing stability, patience, honesty, and balance. Use it in the Northeast area of your home or space for Personal Knowledge. Especially beneficial when placed in the Center area for Balance or the Southwest area for Relationships.
---
Additional Stone Info:
* MOHS hardness = 5-7
* Zodiac stone of: Gemini, Virgo
* Element: Earth