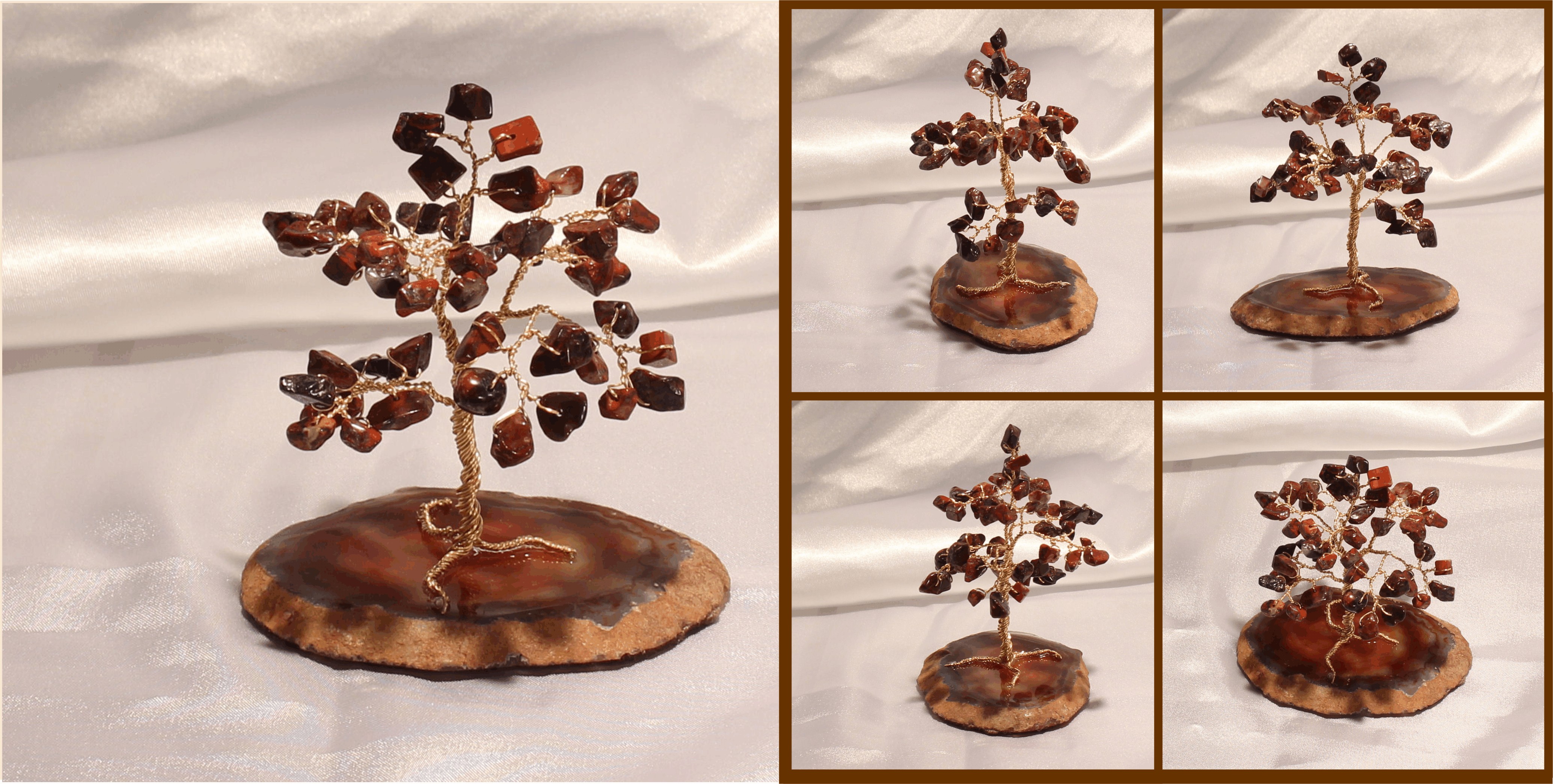 The MINI Gem Trees that I create are smaller versions of my larger ones, yet are packed FULL with at least 50 gemstones in each MINI tree. They are wonderful additions to any collection and fit easily in or on smaller spaces !
JASPER has long been known as the "Supreme Nurturer". This stone helps you understand that you can stay committed and determined without exhaustion or ruining your health.
Gemstone: Brecciated Jasper
Quantity of Gems: 50
Trunk & Branches: created with 24ga Gold Artistic wire
Base: A polished, brown Brazilian Agate slab. Felt has been added to the bottom of the base to protect surfaces.
Approximate Dimensions:
Height: 3.75″
Width: 3″
Depth: 2.25″
Weight: 2.4 oz
---
Metaphysical Properties of your Gem Tree
(and other interesting stuff)
AIDS IN:
Encourages empathy
Enhance organizational abilities
Helps develop creativity
BRECCIATED JASPER has been used as an aid to treat:
Promote healing and recovery from illness
---
CHAKRA: 1st, Base
---
FENG SHUI……
The energy that Jasper provides is full of warmth. Brecciated Jasper is a particularly good grounding stone which could assist those who feel overwhelmed. Use it in the Center of your room or space for Balance. Place in the East for Family, and the West for children.
---
Additional Stone Info:
* MOHS hardness = 7
* Zodiac stone of: Aries, Scorpio
* Element: Earth
* Brecciated Jasper is a variety of Chalcedony that contains hematite