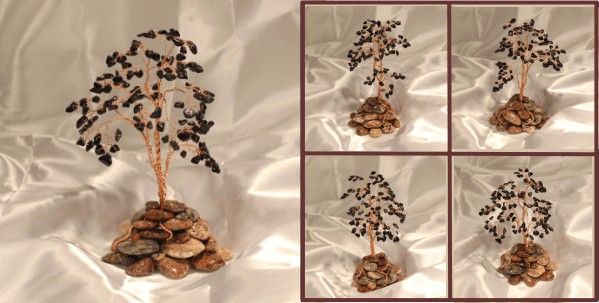 BLACK JASPER is a stone with highly protective energy. Also known as "Blackstone", it will bring good luck to the bearer of a fight, whether it is a mental. physical, legal, or other type of confrontation. Black Jasper also has strong healing energy.
—–SPECIFICATIONS OF YOUR GEM TREE—–
Gemstone: Black Jasper
Quantity of Gems: 120
Trunk & Branches: created with 24ga Gold Craft wire
Base: Granite stones collected from northern Wisconsin and then tumbled smooth.
Approximate Dimensions:
Height: 7″
Width: 4″
Depth: 3.5″
Weight: 11 oz
---
Metaphysical Properties of your Gem Tree
(and other interesting stuff)
AIDS IN:
Protection from attack
Good luck in legal battles
Absorbs negative energy
Provides courage to tackle problems
BLACK JASPER has been used as an aid to treat:
Relieving pain
Stomach ailments
Foot problems
---
CHAKRA: 1st, Base / Root
---
FENG SHUI……
Black Jasper holds energy of power and protection. It brings grounding and stability to the North, East, and Southwest areas of your space.
May also be placed near the main entry of your home.
---
Additional Stone Info:
* MOHS hardness = 7
* Element: Earth
* A variety of chalcedony
[wp_cart_button name="Black Jasper Gem Tree on Tumbled Granite Stones" price="58.00″]
Save