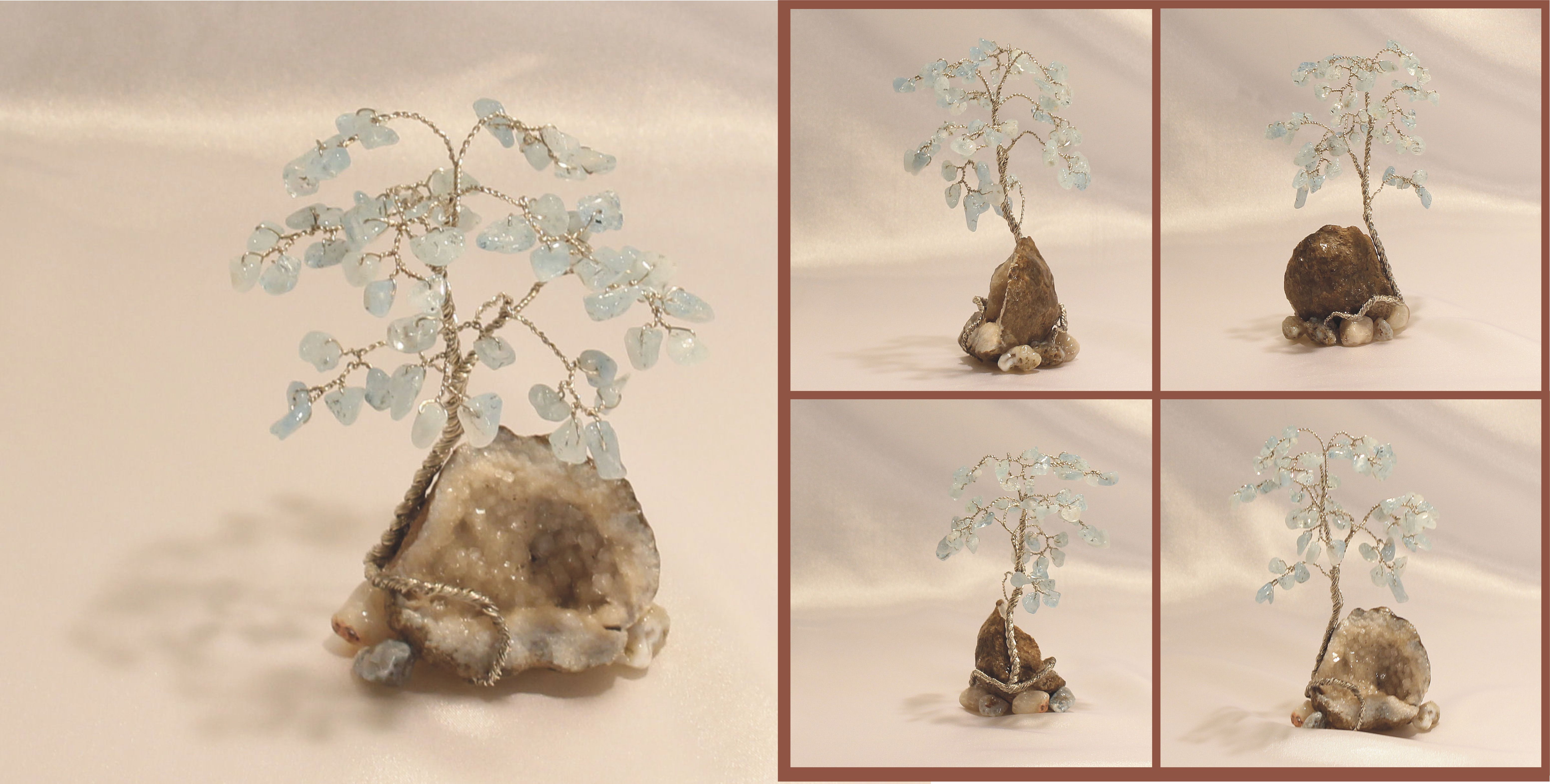 The MINI Gem Trees that I create are smaller versions of my larger ones, yet are packed FULL with at least 50 gemstones in each MINI tree. They are wonderful additions to any collection and fit easily in or on smaller spaces !
AQUAMARINE is a "stone of Courage". This stone has the calming and soothing energy of the sea. It is used for protection on journeys.
Gemstone: Aquamarine
Quantity of Gems: 55
Trunk & Branches: created with 24ga Silver Jewelry wire
Base: A natural Keokuk Geode collected from Hamilton Illinois. Natural agate stones adorn the base
Approximate Dimensions:
Height: 3.75″
Width: 3″
Depth: 3″
Weight: 3.2 oz
---
Metaphysical Properties of your Gem Tree
(and other interesting stuff)
AIDS IN:
Overcoming being judgmental
Clarifies perception
Sharpens intellect
Clears confusion
Reduces drug dependence
Releases anxiety
AQUAMARINE has been used as an aid to treat:
Reduce stress
Discourage miscarriage
Boosts immune system
Eliminate fluid retention
Allows for better breathing with allergies
---
CHAKRA: 5th, Throat
---
FENG SHUI……
Aquamarine should be used in the Southwest area of your home to attract positive energy for love and relationships. Will also aid for courage and protection for traveling when used in the Northwest area of your home or office.
---
Additional Stone Info:
* MOHS hardness = 7.5
* Derived from the Latin "aqua marina", meaning "water of the sea"
* Zodiac stone of: Aries, Gemini, Scorpio, Aquarius, Pisces
* Planet Association: Moon
* Element: Water
* 19th Anniversary gemstone