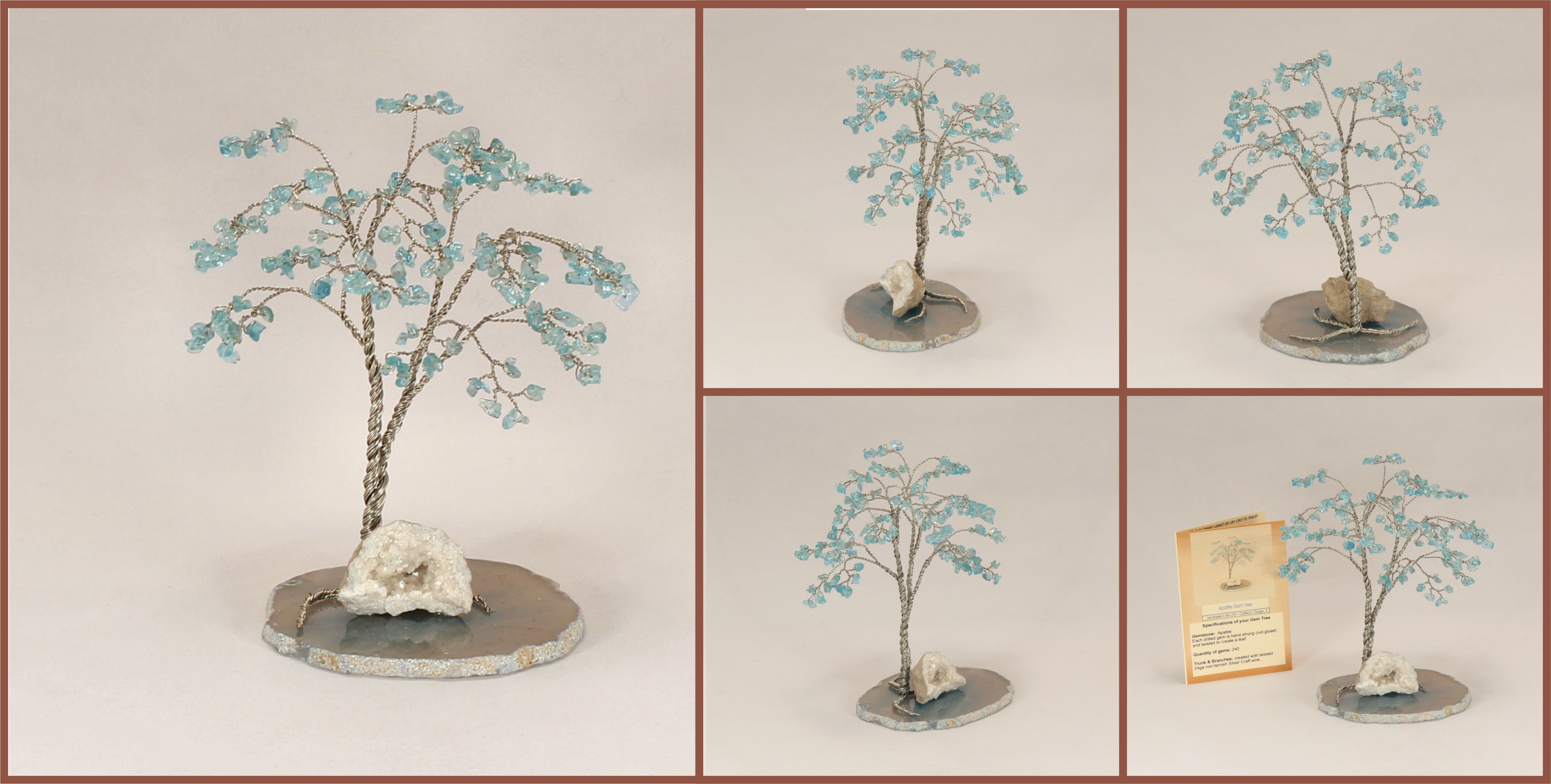 240 grade 'A' gemstones adorn this lovely tree!
APATITE is the "Stone of Manifestation".
It promotes independence and ambitiousness, and is known for encouraging inspiration.
—–SPECIFICATIONS OF YOUR GEM TREE—–
Gemstone: Apatite
Quantity of Gems: 240
Trunk & Branches: created with 24ga Silver jewelry wire
Base: A highly polished pale blue translucent Brazilian agate slab. A small crystal quartz lined Keokuk geode adorns the base.
Approximate Dimensions:
Height: 6″
Width: 5″
Depth: 4″
Weight: 5.5 oz
---
Metaphysical Properties of your Gem Tree
(and other interesting stuff)
AIDS IN:
Enhance your insight
Improve learning ability
Increase self confidence
Restores clear thinking
Creates a willingness to release useless aspects of life, people, and objects
APATITE has been used as an aid to treat:
Nail problems
Allergies
Arthritis
Strengthens muscles
Increase Metabolism
---
CHAKRA: 5th, Throat
---
FENG SHUI……
Apatite is primarily used anywhere in your home or space to help bring inspiration.
Consider using it in the Center area for balance, health, and grounding. It is also quite useful when placed in the West area for Children or in the East area for family and community.
---
Additional Stone Info:
*Zodiac stone of Gemini
*Element: Air
*Mohs Harness – 5