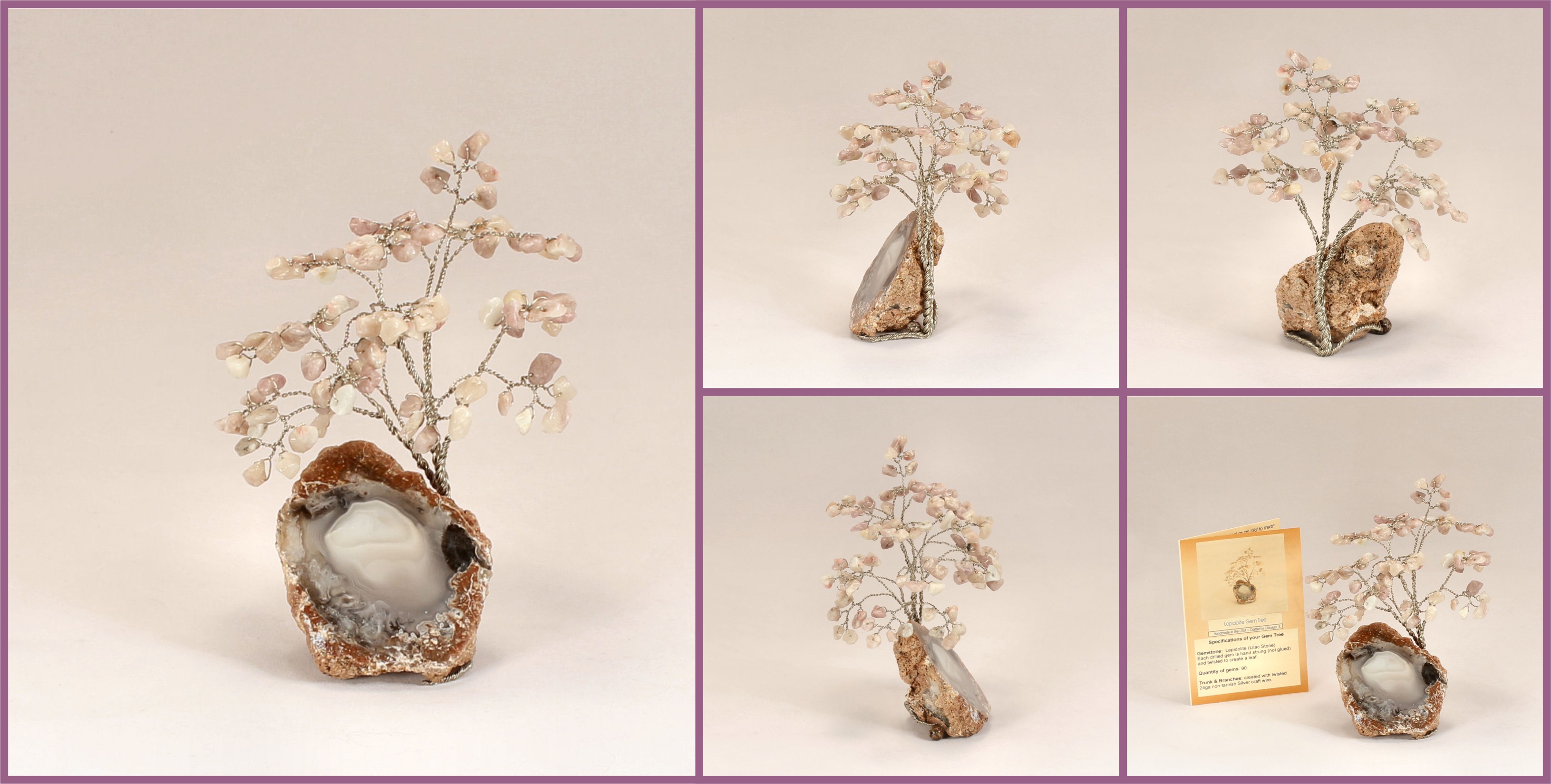 LEPIDOLITE is the "Stone of Transition". It helps to shift and restructure old energy patterns bringing light and hope to a situation. It is also known as the Stone of Rebirth.
—–SPECIFICATIONS OF YOUR GEM TREE—–
Gemstone: Lepidolite
Quantity of Gems: 90
Trunk & Branches: created with 24ga Silver jewelry wire
Base: a rough sawn natural Thunderegg collected in Deming, New Mexico.
Approximate Dimensions:
Height: 6″
Width: 4.5″
Depth: 3.5″
Weight: 6.6 oz
---
Metaphysical Properties of your Gem Tree
(and other interesting stuff)
AIDS IN:
Reduces stress associated with change
Brings balance and inner peace
Helps one to learn from negative experiences
Promotes cosmic awareness
Promotes emotional healing
LEPIDOLITE has been used as an aid to treat:
Soothes Post Traumatic Stress Disorder
Reduces insomnia and nightmares
Eases depression and anxiety
Strengthens the immune system
Detoxifies the skin
---
CHAKRA: 4th, Heart
---
FENG SHUI……
Lepidolite is most beneficial when placed in the Center area of your home or space for Harmony and Balance.
It is also very useful when used in the North area for Personal Journeys and the Northeast area for Self Worth, Cultivation, Knowledge, and Wisdom.
---
Additional Stone Info:
* MOHS hardness = 2.5 – 3
* Zodiac stone of: Libra
* Planet Association: Neptune and Jupiter
* A variety of Mica