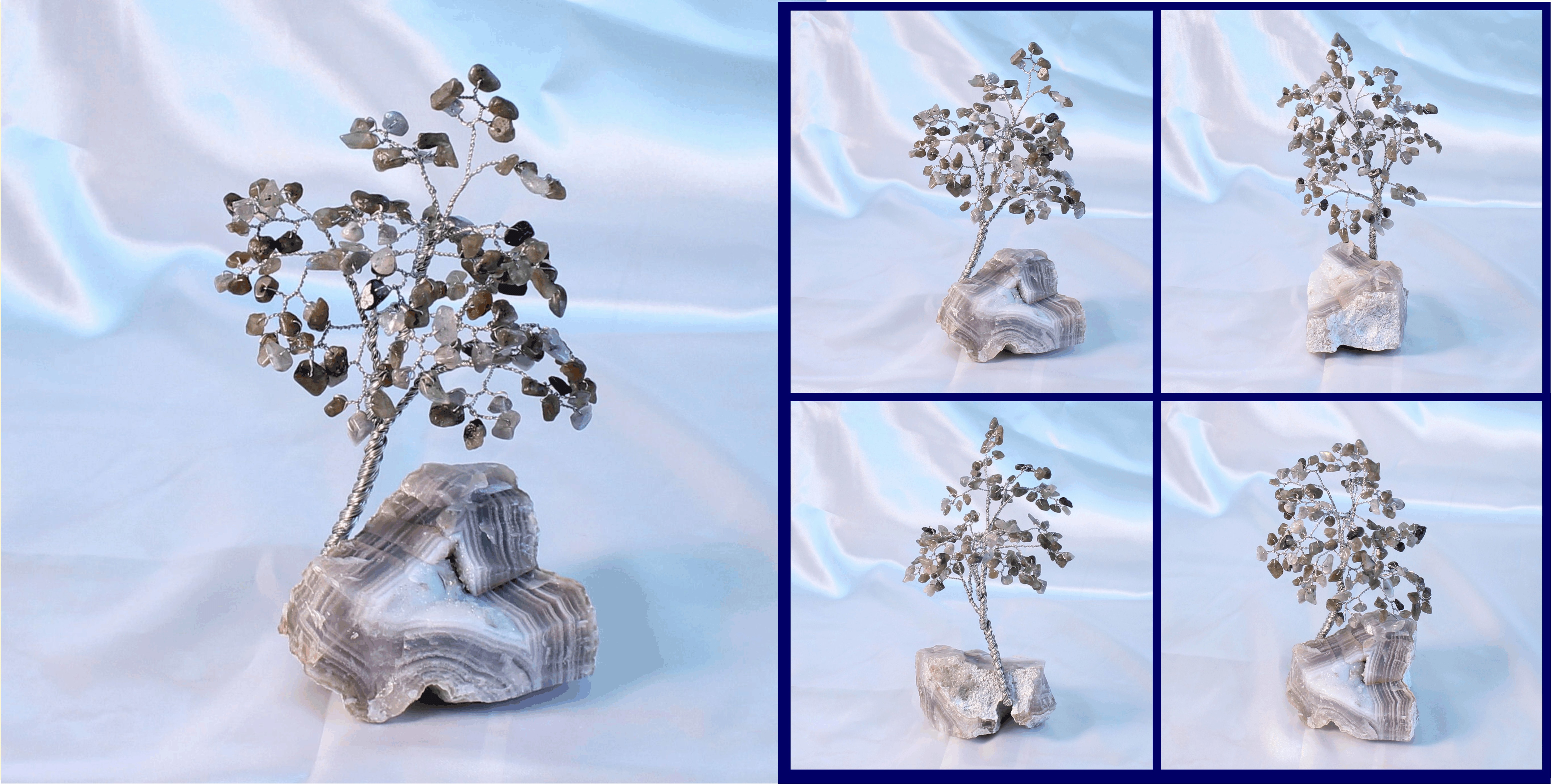 LABRADORITE is a "stone of Transformation".
It is a useful companion through change – imparting strength and perseverance.
Gemstone: Labradorite
Quantity of Gems: 135
Trunk & Branches: created with 24ga Silver jewelry wire
Base: Banded Agate collected from Deming, NM. Druzy quartz is apparent in the center of this stone.
Approximate Dimensions:
Height: 7.5″
Width: 4.5″
Depth: 4.5″
Weight: 1 lb. 1 oz
---
Metaphysical Properties of your Gem Tree
(and other interesting stuff)
AIDS IN:
Raises consciousness
Strengthens intuition
Promotes psychic ability
Strengthens faith in self
Reveals truth behind illusions
LABRADORITE has been used as an aid to treat:
Disorders of eyes and brain
Stimulates mental activity
Relieves anxiety and stress
Lowers blood pressure
---
CHAKRA: 1st, Root/Base
---
FENG SHUI……
Labradorite utilizes Water energy – the energy of stillness, quiet strength, and purification. This element brings the power of regeneration and rebirth. Place it in any area of your room or home that you wish to enhance with this energy. It is specifically useful in the North area for Career and Lifepath.
---
Additional Stone Info:
* MOHS hardness = 6 – 6 1/2
* In the Feldspar family
* Zodiac stone of: Leo, Scorpio, Sagittarius
* Planet association: Uranus
* Element(s): Water