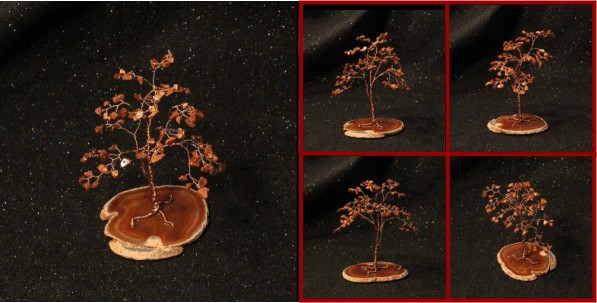 GOLDSTONE is actually a man made stone which was originally created when alchemists working towards creating gold. It was created by adding copper shavings to natural glasses (like obsidian – volcanic glass). Because it is derived from natural materials, Goldstone still has uplifting, mildly helpful properties. It is said to be the "Stone of Ambition".
Gemstone: Goldstone
Quantity of Gems: 100
Trunk & Branches: created with 24ga Copper jewelry wire
Base: Brazilian Agate slice. A layer of felt has been added to the bottom of the base to protect surfaces.
Approximate Dimensions:
Height: 6″
Width: 5″
Depth: 5″
Weight: 4.9 oz
---
Metaphysical Properties of your Gem Tree
(and other interesting stuff)
AIDS IN:
Builds energy
Generates courage
Positive attitude
Increases drive and confidence
GOLDSTONE has been used as an aid to treat:
Reduce stomach tension
Promotes vitality
Benefits arthritic conditions
Improves blood circulation
---
CHAKRA: 3rd, Solar Plexus
---
FENG SHUI……
Goldstone is considered an Earth element which governs the Northeast area for career and personal journeys and the Southwest area for success and reputation. Place is these areas of your home or office. However, the use of Goldstone in any space will promote harmony and stability.
---
Additional Stone Info:
* MOHS hardness = 5.5
* Element: Earth
[wp_cart_button name="Goldstone Gem Tree on Brazilian Agate Slice" price="37.00″]