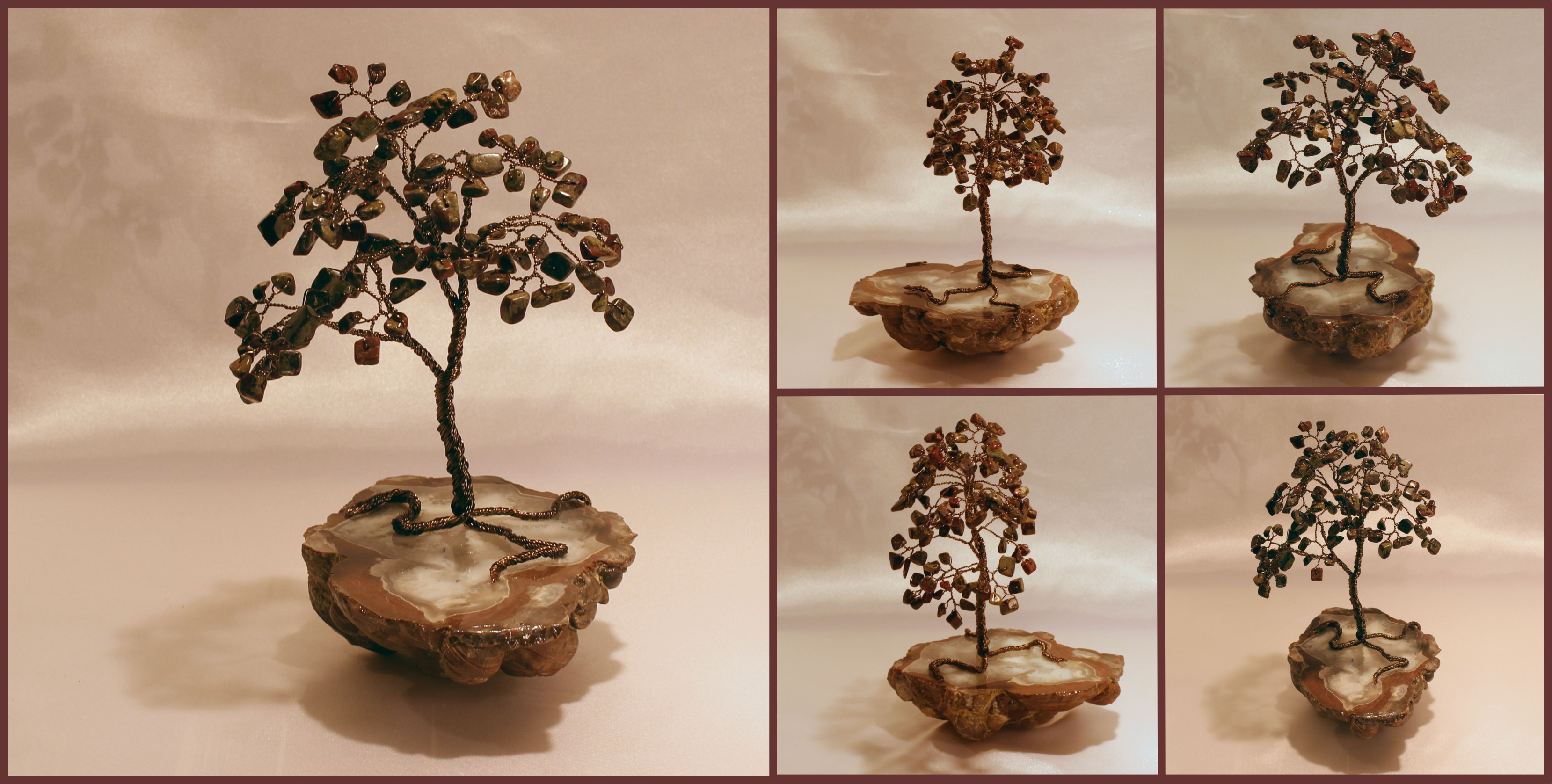 DRAGON BLOOD JASPER is the "stone of Perception and Personal Power". It is a powerful stone for strength and courage.
—–SPECIFICATIONS OF YOUR GEM TREE—–
Gemstone: Dragon Blood Jasper
Quantity of Gems: 120
Trunk & Branches: created with 24ga Antique Brass Artistic wire
Base: a fantastic and large Thunderegg collected near Deming, New Mexico.
Approximate Dimensions:
Height: 7″
Width: 5″
Depth: 5″
Weight: 1 lb 5 oz
---
Metaphysical Properties of your Gem Tree
(and other interesting stuff)
AIDS IN:
Nourishes self confidence and self worth
Enhances your life force energy
Calls forth the strengths of love, forgiveness, and compassion
Assists in achieving goals
Provides courage to face difficult situations
Enhances decision making
DRAGON BLOOD JASPER has been used as an aid to treat:
Intense overall healing of the body
Boosts immune system
Purifies the blood, spleen, liver, kidneys, bladder, and intestines
Neutralizes toxins in the body
---
CHAKRA: 4th, Heart
---
FENG SHUI……
Dragon Blood Jasper utilizes Wood energy; the energy of growth, expansion, new beginnings, nourishment, and health. Extremely beneficial when placed in the East area of your home or space for Family and Health. It is also very useful when placed in the Southeast area for Prosperity and Abundance and the Northeast area for Self Cultivation.
---
Additional Stone Info:
* MOHS hardness = 7
* Zodiac stone of: Aries
* Birthstone: March (Historic)
Save