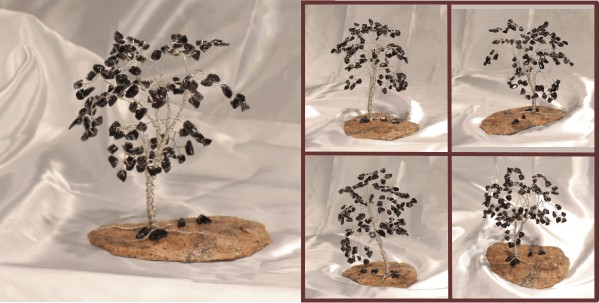 BLACK AGATE is a grounding and protective crystal. It balances the physical, spiritual, and intellectual energies. It is used for protection, courage, and success.
Gemstone: Black Agate
Quantity of Gems: 110
Trunk & Branches: created with 24ga Silver jewelry wire
Base: A natural red granite found in northern Wisconsin. The base is adorned with "fallen" agate "leaves".
Approximate Dimensions:
Height: 5.75″
Width: 5″
Depth: 4″
Weight: 5.8 oz
---
Metaphysical Properties of your Gem Tree
(and other interesting stuff)
AIDS IN:
Periods of bereavement
Promotes inner strength
Helps keep the peace in stressful households
Promotes courage
Increases concentration and clarity
BLACK AGATE has been used as an aid to treat:
Alleviate bone and joint issues
Eases pains in shoulder and neck
Disorders of the pancreas
Improves circulation
---
CHAKRA: 1st, Root/Base
---
FENG SHUI……
Agate is used anywhere in your home to help bring change. Use in the Center for balance and health, in the West for children, and in the East for community and family.
---
Additional Stone Info:
* MOHS hardness = 7
* Zodiac stone of: Capricorn, Scorpio
[wp_cart_button name="Black Agate Gem Tree on Red Granite" price="48.00″]
Save