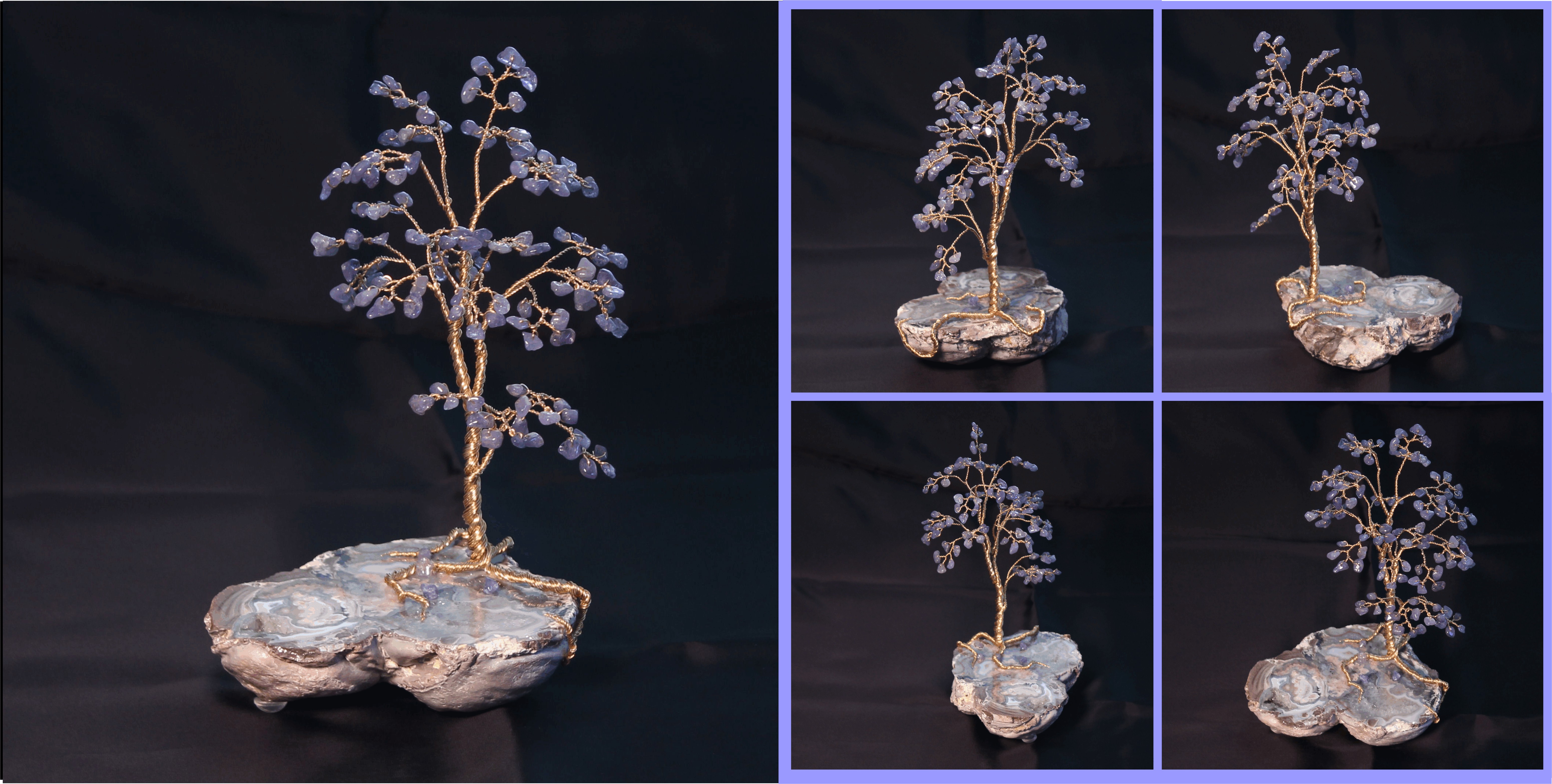 TANZANITE is known as the "Stone of Magic" because it helps with spiritual awareness and psychic insight. It is lesser known as the "workaholic's stone" as it helps you slow down and take it easy.
Gemstone: Genuine Tanzanite
Quantity of Gems: 120
Trunk & Branches: created with 24ga Gold Jewelry wire
Base: A fabulous Thunderegg collected from New Mexico. the base is adorned with 5 "fallen" tanzanite "leaves". A clear rubber foot bumper has been added for stability.
Approximate Dimensions:
Height: 6.75″
Width: 4.75″
Depth: 3.75″
Weight: 14 oz
---
Metaphysical Properties of your Gem Tree
(and other interesting stuff)
AIDS IN:
Enhances composure and poise
Increases harmony
Transmutes negativity
Overcoming fear, worry, and anxiety
TANZANITE has been used as an aid to treat:
Relieves stress and depression
Reduces high blood pressure
Encourages cell regeneration
---
CHAKRA: 5th, Throat & 6th, Third Eye
---
FENG SHUI……
Tanzanite is associated with the energy of the Water element: Purification, inner strength, stillness. Your tree should be placed in rooms where you wish to instill peace and calm.
Most beneficial when placed in the North area of your room, home, or office.
---
Additional Stone Info:
* MOHS hardness = 6 1/2
* Zodiac stone of: Sagittarius, Pisces, Virgo
* Element: Water (blue) Fire (violet)
* Alternate Birthstone of the month of December
* Planet: Jupiter
* 24th Year Anniversary stone