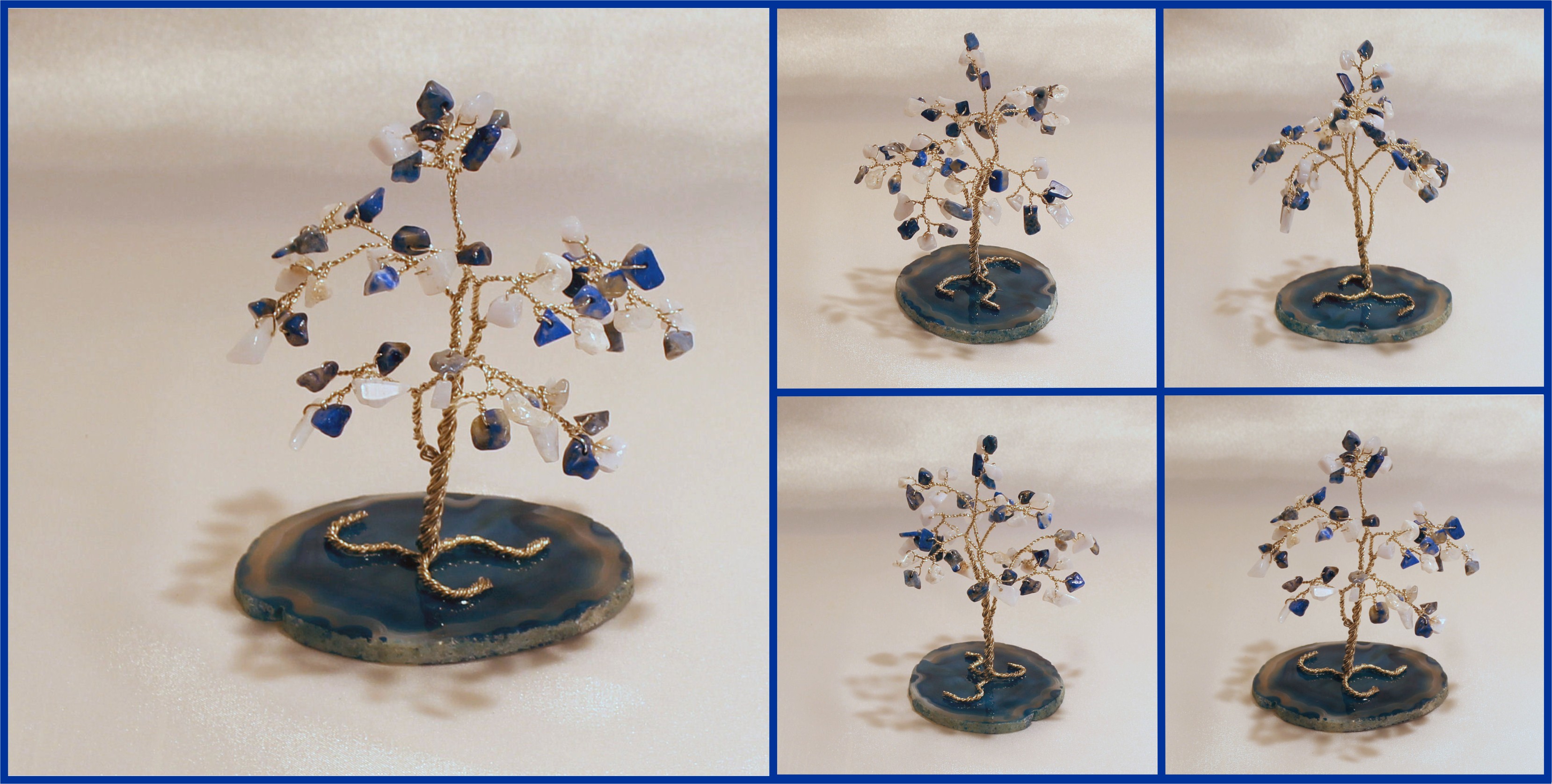 LAPIS LAZULI is said to enhance one's awareness, insight, and intellect.  BLUE LACE AGATE is the "Stone of the Diplomat". A strong stone for communication, peace, and tranquility.
—–SPECIFICATIONS OF YOUR GEM TREE—–
Gemstone: Lapis Lazuli & Blue Lace Agate
Quantity of Gems: 55 (Lapis:28, Blue Lace:27)
Trunk & Branches: created with 24ga Silver jewelry wire
Base: a blue Brazilian Agate slab.
Approximate Dimensions:
Height: 3.75″
Width: 3.25″
Depth: 3.25″
Weight: 2.3 oz
---
Metaphysical Properties of your Gem Tree
(and other interesting stuff)
LAPIS AIDS IN:……………………………………….BLUE LACE AGATE AIDS IN:
Expands leadership qualities……………………… Inspires Loyalty and Trustworthiness
Helps with legal matters…………………………… Reduces arguments
Shields psychic attack ……………………………..Enhances public speaking
Release anxiety……………………………………… Improves written communication
Promotes understanding and intuition…………… Aids Encouragement
Reveals inner truth
LAPIS and BLUE LACE AGATE have been used as an aid to treat:
Alleviates headaches ………………………………  Arthritis
Boosts immune system …………………………….Strengthens skeletal structure
Helps thyroid and nervous system ……………… Enhance mending of breaks and fractures
Relieve insomnia …………………………………….Reduce stuttering
Overcome depression
Reduce fevers and pain
---
CHAKRA: (LAPIS) 6th, Third Eye~
Honors Clairvoyance, Intuition, and the Psychic senses
CHAKRA: (BLUE LACE) 5th, Throat~
Honors Communication, Creativity, and Healing.
---
FENG SHUI……
Lapis utilizes the energy of stillness, quiet strength, and purification. Blue Lace brings the power of regeneration and rebirth. Although you can place it anywhere in your home or office, placement for this gem tree is recommended in the North for Career and Life Path, the Southeast for Wealth and Abundance, and the Northeast for Knowledge and Self Cultivation.
Save
Save
Save